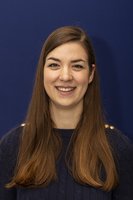 Federica Benes is a PhD student under the lead of Dr. Marco Deluca at the Materials Center Leoben. She attended the University of Trieste, where she obtained her Bachelor´s degree in Chemistry in 2016 with a thesis on the synthesis and characterisation of ruthenium complexes for the light-triggered photorelease of pharmaceutically active molecules. In 2019 she received her master degree in Inorganic and Material Chemistry. During her master thesis at CeramTec (Germany), she focused on the optimization of the colloidal processing of advanced ceramics and the study of rheology in ceramic slurries. In 2019 she attended the IEEE-UFFC Ferroelectric School at Tsinghua University in Beijing, where she was awarded with the Second Prize for the oral presentation of her doctorate project.
Her work in the CITRES project is mainly focused on the sol-gel synthesis and deposition of doped barium titanate thin-films. Furthermore, she performs the electrical measurements on the films.
In her free time, Federica is passionate about travelling, cooking and art.