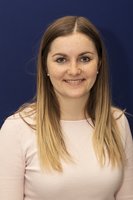 Theresa is a student worker in the group of Dr. Marco Deluca at the Microelectronics Department of the Materials Center Leoben Forschung GmbH.
After completing the Stiftsgymnasium Admont, she enrolled at the Montanuniverstaet Leoben as a Materials Science student.
She is a fundamental help for all the group members, her main tasks are the acquisition of Raman spectra of bulk and thin films samples, the processing of perovskite films, and the treatment of spectroscopic data. She is a member of the Austrian Ceramic Society since 2019.
In her free time, Theresa enjoys playing the clarinet in the local marching band and baking cakes.